Telemedicine
We provide critical care services for a number of peripheral hospitals situated around Northland.
At time this can be changeling to do over the telephone without the patient in front of us. We have utilized telemedicine for number of years to help us to provide the best clinical advice to our colleagues.
ZOOM
We are currently trialing the 'Zoom' system at Bay of Islands Hospital with a view to rolling this out to all the DHB sites as a replacement for NEMO. At present there is a fixed point, remotely controllable, camera in one of the Resuscitation bays at Kawakawa Hospital. This will be transferred on to a moveable 'cart' which will allow Telemedicine consultation throughout the Hospital. This system also allows access to clinicians who are on call at home facilitating expedited decision making.
We envisage this system being in place at Kaitaia, Dargaviile and Rawene in the future.
NEMO
Neonatal Examination and Management On-line (NEMO) is a telemedicine system which was developed in Australia to connect a tertiary centre in Brisbane to 4 neonatal units.
Whangarei ICU were the first to use this system in both the adult and paediatric population to guide clinical decision making around patient transfer. It connects Whangarei ICU with Katiaia Hospital
In November 2016 Dr Michael Kalkoff presented a paper detailing our experience at the 7th meeting of the Australian Telehealth Medicine Society, we received the award for 'Best Paper'.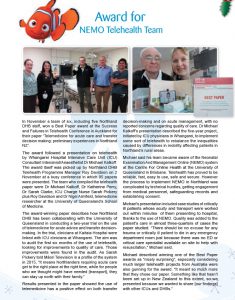 http://www.northlanddhb.org.nz/MediaReleases/GeneralReleasesStatements/NorthlandDHBPavingWayforFutureHealthcare.aspx
Realpresence
This system is used to connect with Dargaville. Whilst not as sophisticated as Zoom or NEMO, it helps clinicians to make informed decisions about transfer requests.